Racism, the murder of Olof Palme, and #shutdownSTEM
A thunderstorm just passed overhead, rain running in sheets off the road and into the nearby field. The crash of the storm seems to echo events in society- cataclysms of noise and maybe change.
Today in Sweden, they announced a suspect in a 30 year old case in the murder of
Olof Palme
. Who is Olof Palme? He was perhaps one of Sweden's more famous prime ministers, killed in Feb. 1986 at the age of 59. Anxious to preserve normal life as much as possible, he and his wife Lisbeth had gone out to a movie with family members and they were shot on their way home as they walked through Stockholm's streets (sans body guard). In perhaps Sweden's most famous unsolved murders, there
were more than 134 confessions of the crime
, one person previously convicted but then exonerated, and now the announcement of a closed case this morning.
While big news in Sweden, why should anyone else care? Palme was apparently outspoken as a prime minister, drawing attention to the colonial past of many countries, including the U.S.
From Wikipedia:
Palme was a pivotal and polarizing figure domestically as well as in
international politics
from the 1960s onward. He was steadfast in his
non-alignment
policy towards the superpowers, accompanied by support for numerous
third world liberation movements
following
decolonization
including, most controversially, economic and vocal support for a number of
Third World
governments. He was the first Western head of government to visit
Cuba
after
its revolution
, giving a speech in
Santiago
praising contemporary
Cuban
and
Cambodian
revolutionaries.
In
reading the Swedish press
about the announcement of the suspected murderer- a man who had been on the scene but someone who had been seen as an unreliable witness- the Swedes seem disappointed not to have more clarity or absolute proof, especially as this suspect has already died and the case is now officially closed.
But in the larger context, the reminder of Palme and his death is a reminder of the challenges that are playing out now- very much in Sweden as much as the U.S.: questions of racism, equity and justice, rights and fairness. Today, 24.9% of Sweden's population is "foreign born"-- meaning that they or their parents were not born in Sweden. Nearly a quarter of the population. While covid-19 has impacted elderly Swedes in care facilities, it has also impacted this foreign born population. An eloquent essay last week highlighted the
impact of living on different ends of a train line
and the very real disparities in Sweden that exist today.
Protests in Sweden
last week for black lives matter were broken up due to concerns about covid after thousands of people showed up- keep in mind that gatherings are still supposed to be limited to 50 people (Sweden is still in the midst of some increasingly poor outcomes re: covid per capita in the world- more on this in a different blog).
Protesters also put signs up outside the US embassy (photo below from my colleague Jonas Ebbesson of Stockholm University).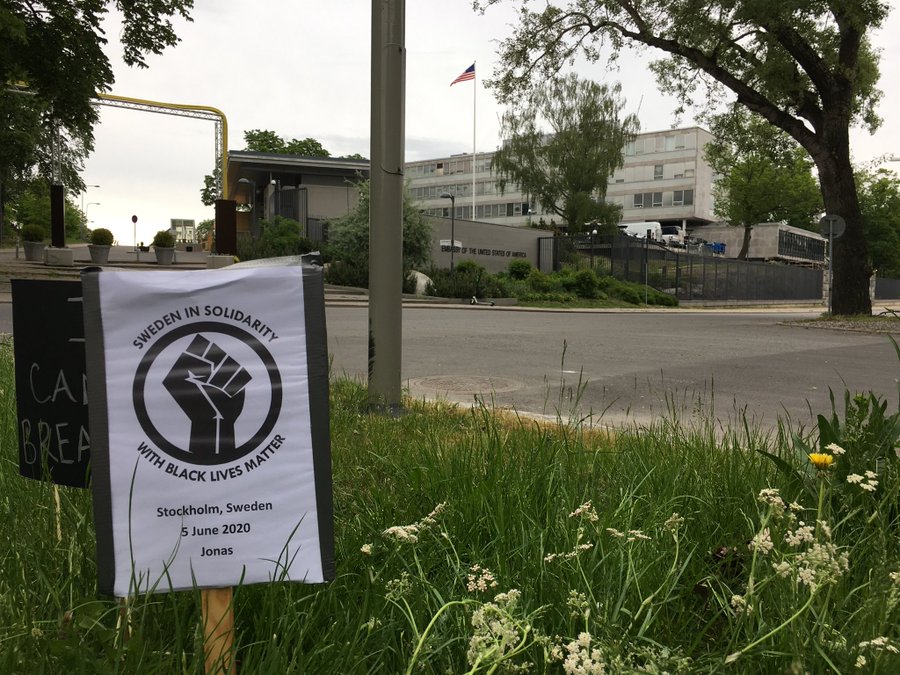 Today in the US., academics have called for #shutdownSTEM,
#StrikeForBlackLives
#BlackandSTEM
#BlackLivesMatter
. What is this? A chance to step out of one's normal lives, educate oneself, and think about how to pro-actively address the very systematic injustices in our system. Black academics are sharing stories of what they've experienced in the academia, using a tag of #BlackintheIvory. The stories are harrowing- daily injustices writ large mixed with the larger ones, not excluding death.
Chris and I spent a long while this morning thinking about our own departments, our own lives and what we can do.
We have been trying to be pro-active already. Over the winter break, we gave Stephen an extra assignment- read all of the New York Times's
The 1619 Project
and write an essay summarizing how slavery is still impacting society today. We've been donating to Stacey Abram's nonprofit "
Fair Fight
" to ensure fair elections. We've been reading books like "how to be an anti-racist"; listening to black speakers, authors, poets, commentators. Want an eye opening read? One of the best books I've read in a long while on any subject is
The Warmth of Other Suns
by Isabel Wilkerson. She spins the story of 3 black people who moved away from the South during the Great Migration and what that looked like. I regularly mentor black law students.
Is any of this enough? No.
In so many ways, the words of Olof Palme remain as needed today as when they were spoken: "the rights of democracy are not reserved for a select group within society, they are the rights for all people." How to achieve this in these times is a fundamental question- not solved in a day but sometimes there are tipping points, times when things do change. May that time be now.